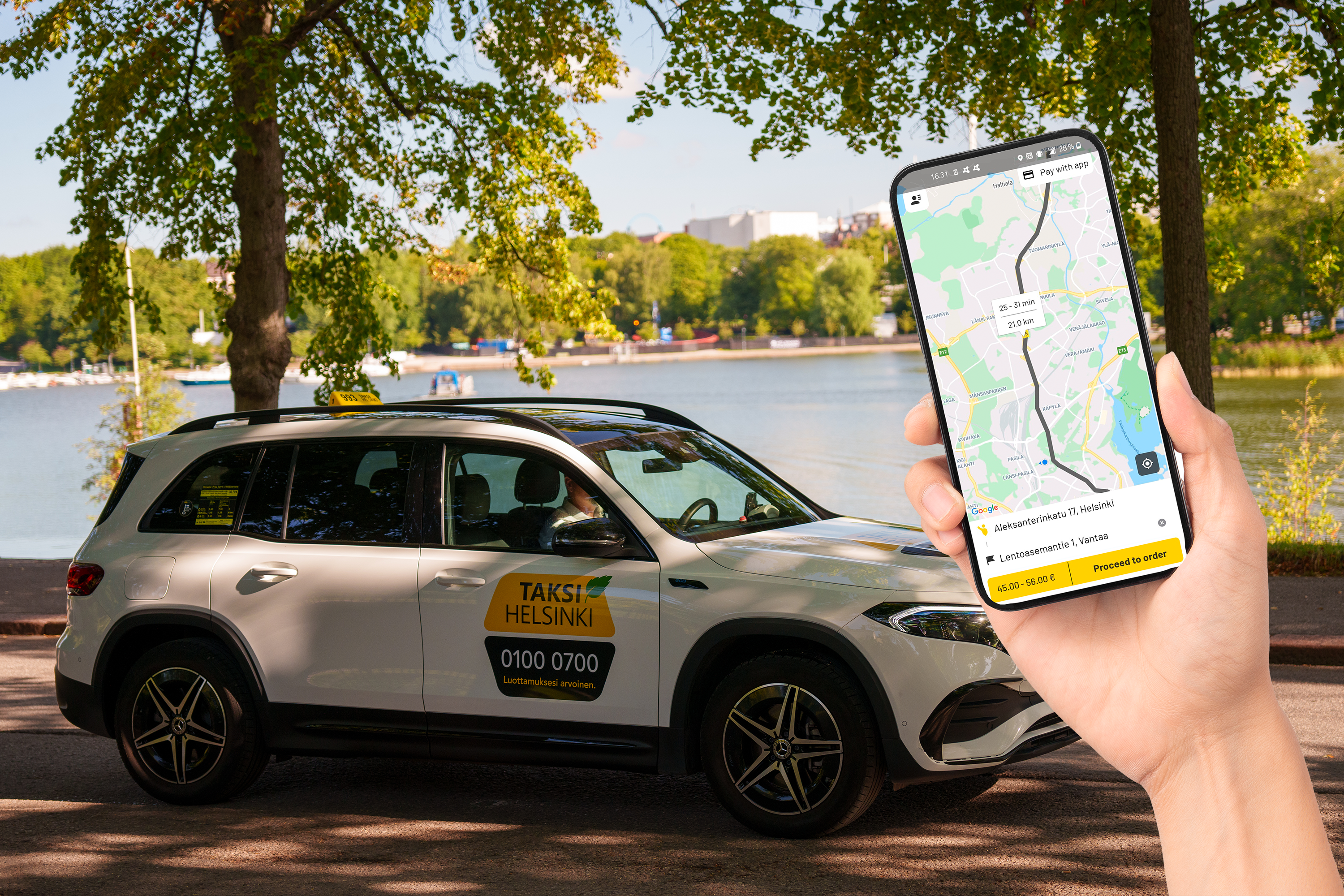 Easy booking
Android

iOS

1.

Choose the desired car model

2.

Possibility to travel with a taxi meter or at a fixed price.

3.

Pay with the app or in the taxi.
Say hello to the Taxi Helsinki application!
With Taksi Helsinki application it is the easiest and fastest way to book a taxi. Application is available on iPhone and Android phones. Download the application now!
Here's how to download the app
Register
The Taksi Helsinki app offers a number of useful features. To best take advantage of all the features, download the app and register as a user.
You can register two separate credit/debit cards (for instance, a personal and a corporate card) with the app, as well as a Taksi Helsinki card. This allows you to pay your fare automatically without even bringing your wallet with you. You can also continue to pay your fare in the taxi in the usual manner.
ReceiptHero
If you are an eTasku or Procountor user and you want to send the receipts of your taxi rides directly to the used service, click the "add to this card" button under the applicable card. A receipt for your taxi ride will then no longer be sent by email but instead be transferred automatically to your eTasku or Procountor service. You can also add ReceiptHero to your credit/debit card later from the app's payment settings.
How to order
The app locates you automatically. You can also further refine your location on a map, type in your address, or choose an address from your order history or previously stored favourites.
When you enter your destination address, the estimated length, price and duration for the taxi ride are displayed in the app. As you place your order, you can choose a payment method for the fare and select the desired car type, such as a sedan, minivan or station wagon.
You can monitor the taxi's arrival on the map. The app lets you know the number of the taxi, the make of the car, and the estimated arrival time.
We welcome your feedback at the end of the trip. Select how many stars you want to award your experience with us, and feel free to add an optional written comment. If you paid your fare with a registered credit/debit card, you will receive a receipt for the trip conveniently in your inbox.
Ordering is free.